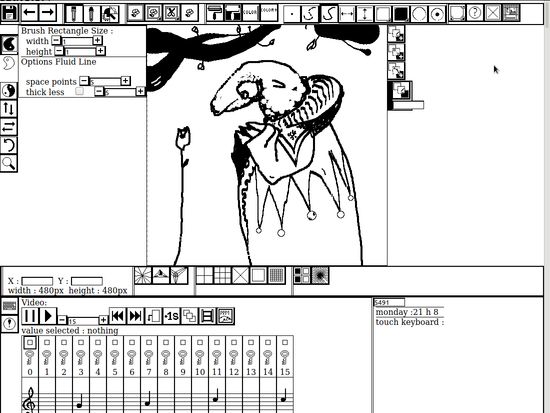 ---
News : 01-07-2022
---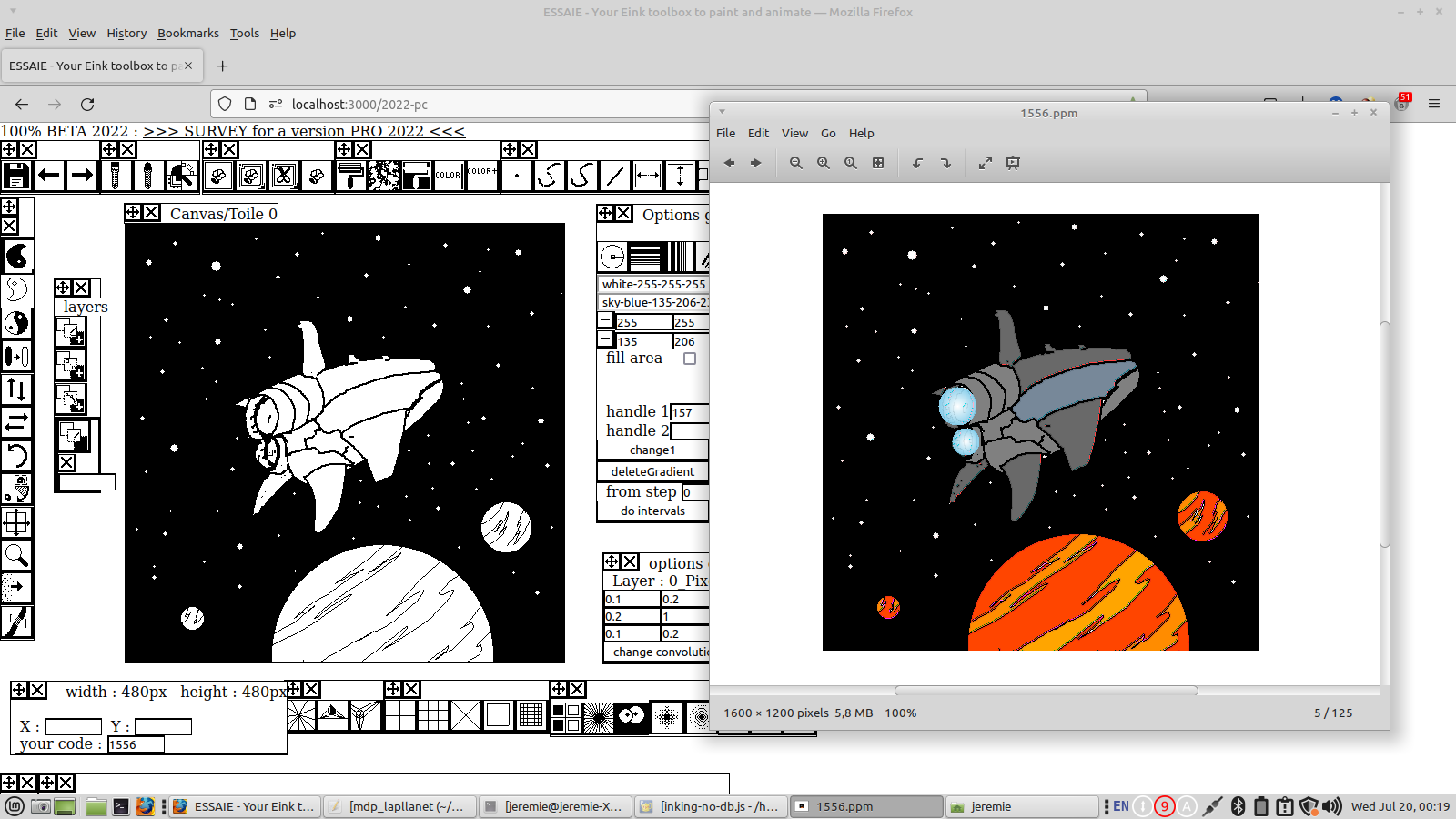 Lot of bug fixed.
A online version for Apple users.
Tool to add Interval on the time line.
Improvement gradient tool (circle, vertical, horizotnal and from vector).
Multy canvas.
Better system to manage colors.
Convolution system to make edge blur.
Button to merge layer Pixels.
Ctrl-Z for magnifier/zoom to work Pixel by Pixel.
New menu to find Pattern with pixel alone and replace them.
A button was added to detect the end of Line in the magnifier to erase manually the pixels border.
News : 01-01-2022
---
The open-beta of the summer 2021 was too slow
After a big pause - I rewritting a big part of the code to increase the speed.
Added a tool to create pixel font.
Tools to do gradients circle, vertical, horizontal and from vector.
Reverse color in multi thread.
Tool to add markers in time line for animator.
A little tool to rotate pixel.
Tool to add a background.
News : 01-01- 2021
---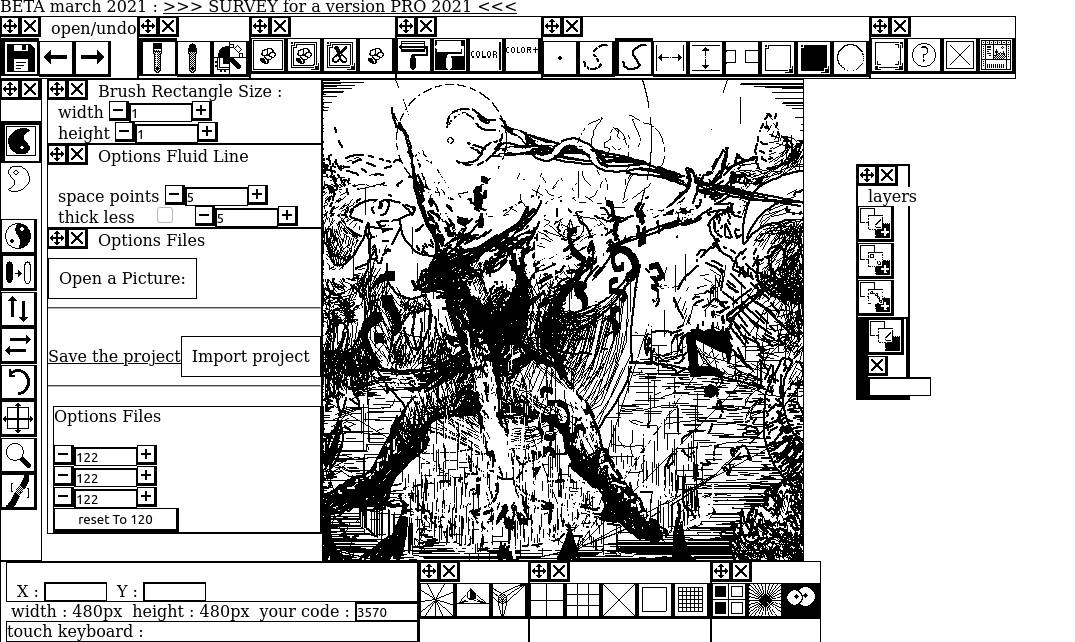 ---
News : 12-11-2020
multi plan for Pixel layer.
Texture tool linked to enveloppe tool in the time line.
---
News : 15-09-2020
Template white and dark, button on the right.
Template keyboard ctrl+alt+w && ctrl+alt+b
export gif.
export png with transparency chanel.
export format ppm.
Gold rules and perspectives tool and specefic layer
Add horizontal line and vertical line.
NEW add note of music in the time line !
---
News : 24-04-2019
Circle improvement.
Layer Polygon with tool to select points.
Layer Bezier curve to create polygon from Bezier curve.
Some tools to select move points of Bezier curves.
Render engine to render Pixel area in color, render line in other color than black, rend polygon, render bezier polygon.
Ctrl-Z and ctrl-Y implemented.
Enveloppe tool in the time line.
---
News : 04-11-2018
Export JPEG.
import picture and convert in black and white.
Erase all the canvas.
Tool to decrease the brushes in mode Pixel Fluid Line.
Module polygone 2d big Upgrade.
Implementation of the first time line.
Tool to make intervals for animation.
Export in mp4.
Tool to draw perspective 1 point, 2 points, 3 points.
Circle and rectangle linked to symmetry tool.
---
News : 04-07-2018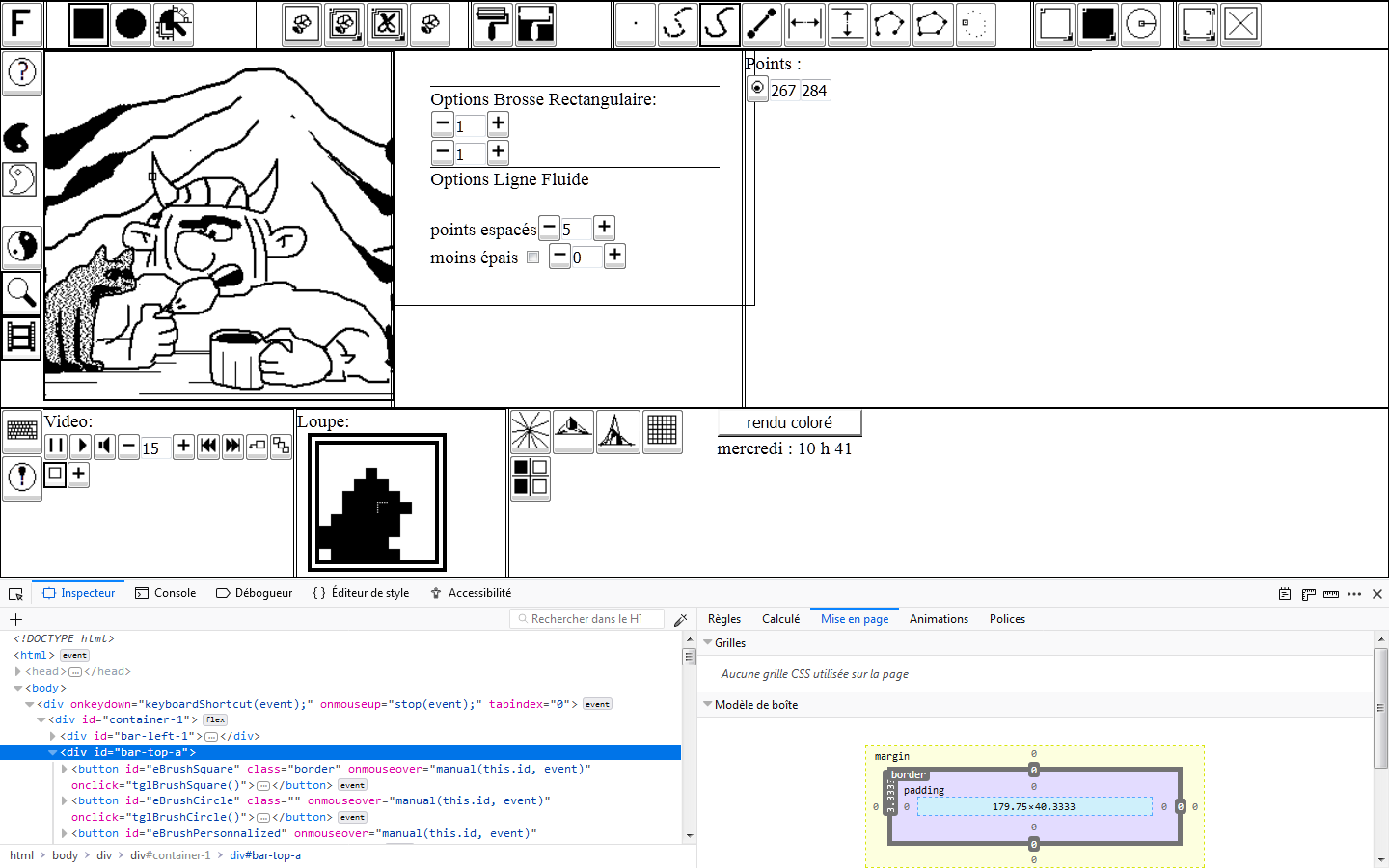 export PNG 96dpi.
create your own brushes.
mode symmetry X and Y.
mode polygon and pixels 2d.
zoom to work pixel by pixel.
copy, cut, paste in black and white.
---
The beginning : 10-05-2018
Circle.
Rectangle empty and filled.
Set point brush rectangle or circle.
trace discontinue point from the type of brush.
trace continue path from the type of brush.
---